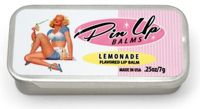 Pin Up Balms are packed with avocado oil, beeswax, and Vitamin E, providing every Pin Up girl with top-rate lip nourishment. With many flavors to choose from, there's one to suit all moods. At one time or another you will experience chapped lips. Trust me, dry, cracked lips are no picnic, it interferes with all those simple activities that we take for granted such as smiling, kissing, eating and talking.
There are several known causes for chapped, dry lips:
Over-exposure to wind, sun, and cold, dry air
Colds
It might be due to certain medications
LL Cool J makes it look good but a habit of frequently licking your lips can be a direct cause of dry chapped lips
Dehydration – are you getting enough water?
It has been our experience that our use of avocado oil and natural ingredients found in Pin Up Lip Balm can treat and/or prevent chapped lips. We have recently added a natural sunscreen formula which helps combat sun exposure. You won't know until you try and in case your wondering, yes Virginia, The Boys Do Love Coconut!
No Comments :(