The Pin Up Balm Holiday Collection –
All Natural Lip Care with Glamorous Holiday Retro Flair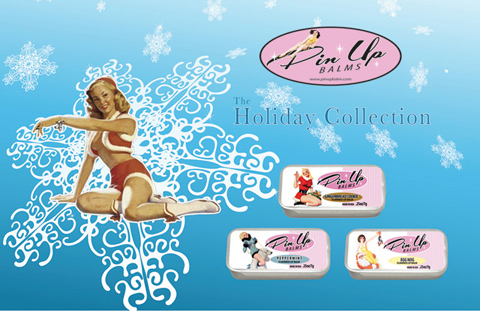 Tis the Season for kissable lips. The Pin-up Holiday Collection featuring our holiday flavor line of all natural lip balms are hot and ready to go.
The spectacular Holiday trio set of moisturizing lip balms includes: Gingerbread Cookie, Peppermint Twist and our new Ambassador 's Eggnog Cocktail. All three lip balms come in our collector keepsake slide top tin packed in a signature holiday box. This set is a great stocking stuffer, mistletoe included!
Pin Up Balms is a sensational treat for the lips and a feast for the eyes. Made with all natural ingredients, these lip balms are a pleasure to use, and the tins are made to be seen! Cruelty free and not tested on animals, these balms are formulated to help soothe tender lip skin, and come in a convenient slide top tin. Available in over 40 fabulous flavors that you are sure to love!
Raspberry Rapture, Love that Lemonade!, The Boys Love Coconut, Voluptuos Vanilla, Gimme Grape, Peppermint Twist – our Holiday Flavor, Mocha Loca Chocolata, & much much more.
Ingredients: Avocado Oil, Beeswax, Apricot Kernal Oil, Vitamin E and Flavor.
Happy Birthday Mommy!
No Comments :(