Pin Up Balm has pledged to donate 100% of the net proceeds from the Sale of the Believe in You! Green Tea Flavored Pin-up Lip Balm to the Count Me In Organization.
Shefinds.com put the call out and we answered, says Pin-up Balm. The Count Me In Foundation is changing the way that women do business, as a woman, daughter, mother, wife and girlfriend with four daughters of my own, it is important that I make a difference by supporting this movement. It's a hand up, not a hand out and we are definitely up with to the challenge.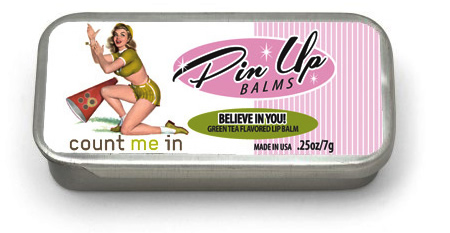 Green tea's healing properties are just being discovered in the world today. This is what inspired our Believe in You! Green Tea flavored Lip Balm.
We want to contribute to women's economic independence. The power of your voice needs to be heard. We believe the power of one can make a difference – will you stand up and join us? We have tremendous faith in the power that we possess to effect change.
Count Me In, a nonprofit 501(c)3 organization, champions women's entrepreneurship and economic independence. Dedicated to increasing women's access to credit and capital, the organization provides online nationwide access to micro business loans, business consultation and education to women who have been turned down or discouraged by commercial financial institutions.
Believe in You! lip balm will be available for sale September 1st – go ahead and pre-order. For the mothers and women fighting for better days to come – here's to you…Check out Alicia Key's Superwoman
No Comments :(